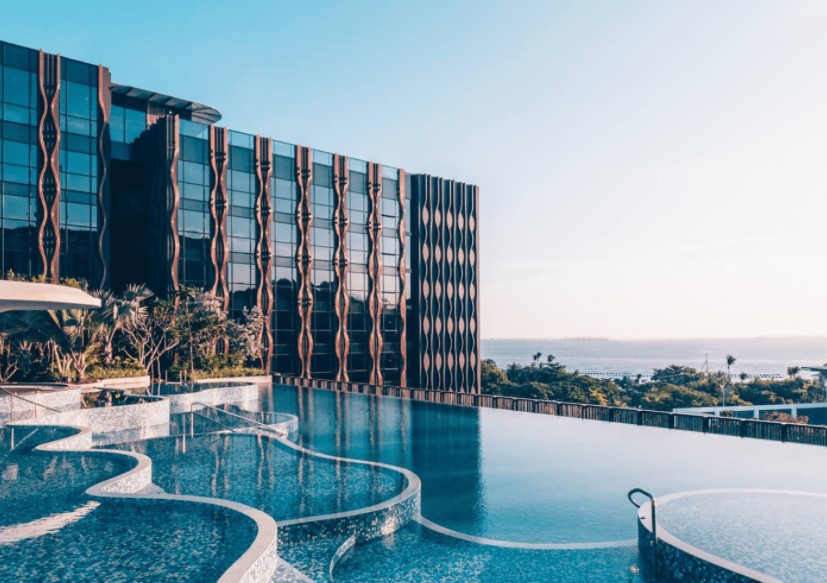 Singapore has always been a favorite option for a holiday for many travelers. In Singapore, they can do many things. One of them is visiting Sentosa Island. This place is very recommended for family vacations, a gateway of entertainment and fun.
Sentosa Island, located on the southern coast of Singapore. Although this place is not very wide, you can do a lot of things here. You can find many resorts and hotels in Sentosa Island. So, you don't need to be confused about looking for a hotel in this place. In addition, you can visit other exciting entertainment places, such as aquariums, amusement parks, and also beaches.
Planning to go on vacation to Sentosa Island, Singapore? Find the best hotel recommendations as accommodation on Traveloka Lifestyle SuperApp.
Hotel Recommendations in Sentosa Island, Singapore
Resorts World Sentosa – Beach Villas
A five-star resort with the best sea views is Resorts World Sentosa. Staying in the ocean suites will give you a new experience. This resort has top-notch customer service that is always welcome to help every customer.
You can also take a walk to Adventure Cove Waterpark, which is not far from the hotel location or interact with dolphins face to face at Dolphin Island. If you want to have fun in the resort area, there is a casino area in Resort World Sentosa.
Each room is equipped with super complete facilities, including: cable TV, desk, hairdryer, minibar, shower, tv, and many more. In addition, Resort World Sentosa provides public facilities that can be used for every visitor. You can enjoy their public swimming pool and recreation room with your family.
Capella Singapore
You will get beautiful views if you stay at a five-star hotel, Capella Singapore. Many travelers recommend this hotel because it is the most convenient place to stay with family in Sentosa Island.
There are many things you can do if you choose Capella Singapore as a place to stay. You can play tennis on their court, swim with your family, read a book in the library, or just relax in the sauna and spa.
Not far from the hotel, about 500 meters, which can be reached by walking, there is a wonderful Palawan Beach. This beach is perfect if you are on vacation with your family because there are many playgrounds, such as Palawan Pirate Ship and a spot for taking family photos with the animals.
Shangri-La Rasa Sentosa, Singapore
Need a comfortable hotel if you are on vacation only in your room when visiting Sentosa Island? Shangri-La Rasa Sentosa, Singapore, is the excellent answer. Sometimes, we feel too lazy to leave the room while on vacation. Then choosing a comfortable place to stay overnight is very important.
Located on Siloso Road, this hotel provides complete room facilities. You will feel very pampered and like staying at home. Each room will get cable TV, hairdryer, minibar with refrigerator, also a separate shower and tub.
Shangri- La Rasa Sentosa is a beachfront resort in Singapore that provides a lot of entertainment. You can have fun in the sun and enjoy an array of sea sports activities with your family.
Amara Sanctuary Resort Sentosa
For those of you who are looking for peace and quiet while on vacation, Amara is the right choice to stay on Sentosa Island. This resort is further from the crowded tourist areas. Having a relaxing and enjoying the day with your family in the swimming pool will be the ultimate vacation experience.
The rooms at Amara Sanctuary come with almost every amenity you can think of, including a minibar, bathtub, hairdryer, and so on. You can use other facilities, such as a fitness center, karaoke, massage, and spa.
That's a list of hotel recommendations on Sentosa Island. Apart from hotels on Sentosa Island, through Traveloka, you can easily find the best hotels in other locations, such as hotels in Geylang. Just access the Traveloka website or application right now and get exciting promos.
Related Posts